GOT FRUIT?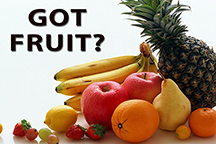 JESUS tells us in Matthew 7:13–14 Enter ye in at the strait gate: for wide is the gate, and broad is the way, that leadeth to destruction, and many there be which go in thereat: 14 Because strait is the gate, and narrow is the way, which leadeth unto life, and few there be that find it.
This is often referred to as applying to those who refuse Jesus – to those who do not claim to be Christian. There is truth in that. Those who do not repent and trust in Jesus for their salvation are on the broad road to destruction and will not enter the Kingdom of Heaven. However, this is actually not the context Jesus used when He said these words.
Matthew 7:15–20 Beware of false prophets, which come to you in sheep's clothing, but inwardly they are ravening wolves. 16 Ye shall know them by their fruits. Do men gather grapes of thorns, or figs of thistles? 17 Even so every good tree bringeth forth good fruit; but a corrupt tree bringeth forth evil fruit. 18 A good tree cannot bring forth evil fruit, neither can a corrupt tree bring forth good fruit. 19 Every tree that bringeth not forth good fruit is hewn down, and cast into the fire. 20 Wherefore by their fruits ye shall know them.
Jesus clarifies in the above verses that God is not mocked (Gal 6:7) and He knows the thoughts of our heart as well as our actions. Bring forth fruit is the same a living (and thinking) in a manner that is pleasing to God. Jesus is speaking these words to people who thought they were in the faith – they thought God was pleased with them. Let's see who God is really warning about this peril.
Matthew 7:21–23 Not every one that saith unto me, Lord, Lord, shall enter into the kingdom of heaven; but he that doeth the will of my Father which is in heaven. 22 Many will say to me in that day, Lord, Lord, have we not prophesied in thy name? and in thy name have cast out devils? and in thy name done many wonderful works? 23 And then will I profess unto them, I never knew you: depart from me, ye that work iniquity.
Jesus is directly addressing those who think they are His. He clearly states that many of the people who think they are God's children are self-deceived! In fact He calls them sinners (workers of iniquity) and states that He has never known them. These stern words from our master should make any Christian pause and examine their self. Yet the earlier verses make it clear than many will not consider their ways and they will not be found written in The Book of Life. That is the reason we created the 'Got Fruit?' tract and this webpage – to warn, instruct and encourage where needed.
Let's look at some Scriptures on this topic:
Galatians 5:19–21 Now the works of the flesh are manifest, which are these; Adultery, fornication, uncleanness, lasciviousness, Idolatry, witchcraft, hatred, variance, emulations, wrath, strife, seditions, heresies, Envyings, murders, drunkenness, revellings, and such like: of the which I tell you before, as I have also told you in time past, that they which do such things shall not inherit the kingdom of God.
Ephesians 4:20–24 But ye have not so learned Christ; If so be that ye have heard him, and have been taught by him, as the truth is in Jesus: That ye put off concerning the former conversation the old man, which is corrupt according to the deceitful lusts; And be renewed in the spirit of your mind; And that ye put on the new man, which after God is created in righteousness and true holiness.
1 Corinthians 10:12 Wherefore let him that thinketh he standeth take heed lest he fall.
There are some questions following that might help better clarify what I am writing about. Please read through and answer them for yourself. Do you think one, some or even all of these things make you a Christian?
-Baptism
-Church attendance
-Prayer
-Bible reading
-Witnessing to others (including missions)
-Sabbath / Holy Day Keeping / Obedience to 10 Commandments
-Raised that way
-Giving money/time
-Belonging to a specific denomination
It is not a complete list, but it covers many of the main activities that are considered 'Christian'. These are all things that the true Christian does, however, simply doing them does not make one a Christian and more than spending time in a garage does not make a person a mechanic. Likewise, doing 'Christian' things does not make one a Christian. Trusting in our activities (such as listed above) is trusting in our own righteousness - hoping to gain salvation by works. If you find yourself trusting in your works then please be sure to read on - there is important information coming right up.
There is only one thing that makes someone a Christian, and that is Jesus Christ! A Christian has their hope in the shed blood of Jesus Christ alone. We cannot earn our salvation by works. It is given unto men to Repent and Believe for salvation. This needs to be firmly understood before a proper Christian walk can be embarked upon. It is by Faith in Jesus alone that man can receive salvation - not by works.
Ephesians 2:8–9 For by grace are ye saved through faith; and that not of yourselves: it is the gift of God: 9 Not of works, lest any man should boast.
1 Corinthians 3:11 For other foundation can no man lay than that is laid, which is Jesus Christ.
John 14:6 Jesus saith unto him, I am the way, the truth, and the life: no man cometh unto the Father, but by me.
Do not misunderstand - a man or woman that has truly been converted, who truly carries God's spirit within themselves will do all of the things in the previous list, and much more. These things however are the FRUIT of redemption from the world to God, not the source of redemption.
James 2:19–20 Thou believest that there is one God; thou doest well: the devils also believe, and tremble. But wilt thou know, O vain man, that faith without works is dead?
So how does one know if they are firmly planted in the saving faith of Jesus Christ, the Faith that was delivered to the Saints in all generations? Have trust in God The Father and what He has done for us through Jesus Christ, His only begotton Son. Knowing that by this alone will anyone avoid a fiery destruction in the lake of fire. God must be more than just Savior – He must be Lord of your life.
John 7:37–39 In the last day, that great day of the feast, Jesus stood and cried, saying, If any man thirst, let him come unto me, and drink. He that believeth on me, as the scripture hath said, out of his belly shall flow rivers of living water. (But this spake he of the Spirit, which they that believe on him should receive: for the Holy Ghost was not yet given; because that Jesus was not yet glorified.)
Luke 11:10–13 For every one that asketh receiveth; and he that seeketh findeth; and to him that knocketh it shall be opened. If a son shall ask bread of any of you that is a father, will he give him a stone? or if he ask a fish, will he for a fish give him a serpent? Or if he shall ask an egg, will he offer him a scorpion? If ye then, being evil, know how to give good gifts unto your children: how much more shall your heavenly Father give the Holy Spirit to them that ask him?
As we read above, God is eager to give us His spirit, and by His spirit we will be more than conquerors (Rom 8:37, Phil 2:13). And how do we know we have His spirit? By the fruit that bears from us:
Galatians 5:22–24 But the fruit of the Spirit is love, joy, peace, longsuffering, gentleness, goodness, faith, Meekness, temperance: against such there is no law. And they that are Christ's have crucified the flesh with the affections and lusts.
Saving faith is characterized by repentance from the old sinful works of the flesh and a fervent turning towards and living the fruits of the new life.
2 Corinthians 5:17 Therefore if any man be in Christ, he is a new creature: old things are passed away; behold, all things are become new.
Here is a list that gives a good outline of the Christian walk. It was originally written by J. Hampton Keathley III.
Genuine repentance will make itself evident by its deeds and attitudes (Lk 3:8, Acts 26:20)
1. Freely acknowledge sin (1 Jn 1:9, Prov 28:13a)
2. Cease the activity for which he was disciplined and seek continuing Biblical help if it's a case of life dominating patterns (Prov 28:13b, Gal 6:1, James 5:19-20)
3. Make restitution and/or ask for forgiveness from those hurt as it is applicable. (Philemon 18-19, Mt 5:23-24)
4. He/she will demonstrate a genuie change of heart, a real concern and Godly sorrow over his actions, not in order to be forgiven, but because of the harm caused to the glory of God and the hurt caused others (2 Cor 7:8-11, Ps 51:17)
5. He/she will begin to manifest the fruit of the spirit and an ever increasing concern for the things of Christ. (Gal 5:22-24)
This is the heart of the matter – a true transformation of thought and action:
Romans 12:1–2 I beseech you therefore, brethren, by the mercies of God, that ye present your bodies a living sacrifice, holy, acceptable unto God, which is your reasonable service. And be not conformed to this world: but be ye transformed by the renewing of your mind, that ye may prove what is that good, and acceptable, and perfect, will of God.
I'm pleased you took the time to read through this letter. If you find yourself confident that you are indeed in the faith then I am doubly joyous! You certainly do not need my approval, but rather rest in The Father and His Son.
If, however, these words have raised doubt in your mind then:
First – go before God in prayer and ask Him to forgive whatever sins you have committed and to provide what you need to be taken on to live the life of Holiness that He desires for all His children. He is eager to forgive and always provides everything we could need. (Romans 10:9, Acts 2:38)
Second – find a Bible believing group of Christians and ask them for help as well. (Acts 17:11, Philippians 4:6, Matthew 22:37, John 4:24, Hebrews 10:24-25, Acts 2:42, Colossians 2:7, Philippians 4:8, Acts 1:8, Mark 16:15)
Always remember that your trust and faith is always in Him and Him alone. (Phil 3:9)
Here are a few parting Scriptures. If you would like to talk about this more there is contact information at the bottom of this page.
2 Peter 3:13–15 Nevertheless we, according to his promise, look for new heavens and a new earth, wherein dwelleth righteousness. Wherefore, beloved, seeing that ye look for such things, be diligent that ye may be found of him in peace, without spot, and blameless. And account that the longsuffering of our Lord is salvation; even as our beloved brother Paul also according to the wisdom given unto him hath written unto you;
John 15:9–10 As the Father hath loved me, so have I loved you: continue ye in my love. If ye keep my commandments, ye shall abide in my love; even as I have kept my Father's commandments, and abide in his love.
Philippians 4:8 Finally, brethren, whatsoever things are true, whatsoever things are honest, whatsoever things are just, whatsoever things are pure, whatsoever things are lovely, whatsoever things are of good report; if there be any virtue, and if there be any praise, think on these things.
---
Here are some video lessons with more information on this subject - I hope you find them useful:
-The Christian's Character: Love
Click here to go to our home page for more information: www.totw.org
Click here for a copy of this tract: Got Fruit? Tract (pdf format)
Any questions or comments please Contact us at info@truthontheweb.org